It's that time of year again – the hap, happiest season of all! And kids everywhere are scratching out their wish lists, hoping they've been nice enough to stay off of Santa's naughty list for another 365 days.
As business owners, we're scratching out other lists… the dos and don'ts we've learned from the past year we'd like to apply in the coming one.
If you're like us, you want to provide your audience with updated content consistently in 2019 (whether or not you were successful at that in 2018!). To help you with that goal, we've put together our Naughty and Nice list for email newsletters.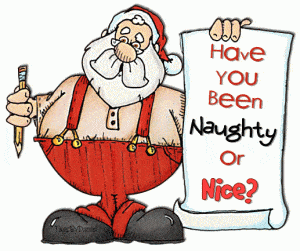 Here are some dos and don'ts for keeping the content rolling with emails your readers will actually want to read:
DO… Address your ideal clients directly. Who are they? Middle-aged stay-at-home moms or retired Wall Street executives? Content Marketing Institute says 96% of successful B2B content marketers have audiences who view their company as a trusted resource because they put their audience first. You'll build credibility, too, when you write with your ideal clients in mind.
                         DON'T… use formal language or a stiff style. Instead…
DO… write like you're writing to a friend. Belinda Weaver of Copywrite Matters says,
"Your email marketing should feel like a real conversation, not a pitch presentation."
You wouldn't beat your friends up with salesy chatter, so…
                         DON'T…use sales gimmicks. But…
DO…communicate value and offer useful information. Build the case that you're the expert who can answer your ideal client's questions simply by answering their most pressing questions. Every. Single. Email.
                         DON'T… take up too much of your readers' time.
DO… keep it simple, informative, entertaining, and…
You'll stay on your readers' nice list in 2019!