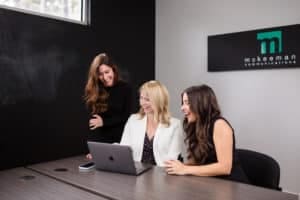 If it seems like a new social media site or trend is popping up every day, it's because they are. There are many good reasons for this, and the fact that consumers prefer social media over many "traditional" marketing and communication platforms is perhaps the most important for your business. You can talk to a dozen public relations firms, and they will tell you the same thing: your business needs social media to survive in today's world. But, which platform or platforms are the best for your business?
Unfortunately, there is no single or blanketed answer that will make sense for every business. You have to dig deep into your goals, budget, and resources to answer that for yourself.
Goals Matter
What goals have you set for your business? The top five are to increase brand awareness, boost sales, participate in community engagement, grow your audience, and drive more traffic to your website. If you've been searching "public relations firms near me" to help you start your social media campaign, you'll want to know your goals before you get started. Your PR rep must understand what you want so that they can come up with a plan that aligns with your needs.
A Question of Content
Another consideration before you choose a social media platform for your brand is the type of content that will be most beneficial to your business. According to most public relations firms and social media marketers, video and images are the most impactful. For video and images, Facebook, YouTube, and Instagram are essential. You'll also want to poll and define your current audience to find out where, exactly, they spend their online time. If they are using Facebook, for example, then you might want to hold off on TikTok. More than just knowing your customers, you also want to consider your industry. For example, if you are a travel agency or home design firm, you may be best off channeling some energy into TripAdvisor and Pinterest, respectively.
Keep A Watchful Eye On The Competition
One final tip: pay attention to your top competitors. Are they bringing in more followers on one social media platform versus the next? Are their followers engaged? By watching the competition on public platforms, you can identify their shortcomings, but also what their audience likes/dislikes. This gives you an opportunity to fill in any market gaps that might become your next major revenue stream.
As you search "public relations firms near me," spend the time looking at their reviews and pay close attention to what customers are saying about how they handle social media. Remember, there is no one-size-fits-all solution, and your PR efforts should be custom to your business so that you get the best results for your marketing dollars.
McKeeman Communications helps business owners just like you tell stories that attract and retain the best customers. Visit us online today at McKeemanCommunications.com, and join our list of happy customers throughout North Carolina and Tennessee.